How to save money by purchasing a 3in1 Travel System?
What constitutes the main criteria for choosing a Travel System? Based on our experience, parents are primarily concerned about an excellent price/quality ratio and that once purchased product would serve their child and them for as long as possible. Additional advantages are its durability and multifunctionality. Who wants to travel with a number of different accessories when they can choose one item that is equipped with all the most essential functions and features? It is completely comprehensible because for many families buying a pushchair is still a serious financial investment, not to mention the obligation to purchase several means of transport for the toddler. It is no coincidence that multi-purpose pushchairs, i.e. 3-in-1 Travel System bundles, are the most commonly bought by the parents. In our guide, we advise whether it is worth to choose such a product and we will describe all its most significant advantages and elements.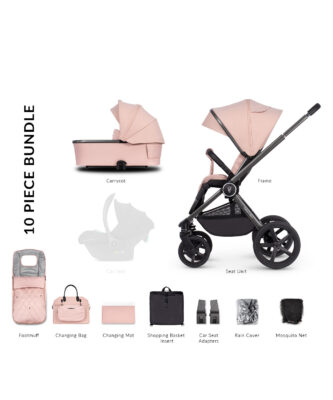 Until recently, parents had an indispensably limited choice when it came to purchasing a pram. In practice, it consisted of buying carrycot for a newborn and a seat unit for the baby at a later stage of development. Recent years and technological progress have brought the development of an abundant selection of multi-purpose Travel Systems which are now available on the market. Currently, parents can decide whether to purchase a 3-in-1 model (carrycot, seat unit and car seat) or 2-in-1 (just carrycot and a seat unit for people without a car). Additionally, each of these models is often equipped with special features facilitating the life of both parents and their children. Some companies charge extra costs related to specific improvements, but not our brand. We think primarily about your comfort. Now let's get to the description of these elements; what they are needed for and how to check their quality before the purchase.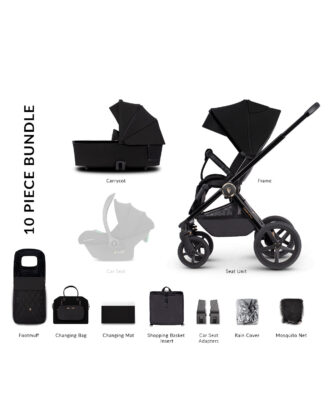 What components and features are available with our 3-in-1 Travel Systems?
Frame – the frame is the key element to every pram. Before buying this accessory, make sure that the frame was manufactured using the highest quality materials, has been certified for safety and assembles both easily and quickly. The possibility to install the seat forward-facing or rearward-facing also is a feature worth seeking. 
Carrycot –it is important that the carrycot is made from the highest quality materials, have appropriate ventilation as well as easy folding for transportation and an extended sunshade in the hood which can be adjusted accordingly to the weather conditions. It is also essential to pick the lightest and the most comfortable for carrying the product. 
Seat Unit – seat unit should have all the safety certificates. The essential features: adjustable back and footrest, unfastened crotch strap, detachable bumper bar as well as its hood and a cover for a toddler's legs. 
Bag – Large enough accessory bag to accommodate all the most significant products of a child's everyday life. It should be equipped with an adjustable shoulder strap and a large number of zippered pockets. It should preferably be made of waterproof and easy-to-clean material.
Adapters – Allow to attach the car seat onto the frame. The adapters must be adjusted to the specific chassis of the car seat. It will significantly increase the functionality of the product.
The main advantages of 3-in-1 Travel System:
Money-saving
Although multifunctional pushchairs seem to be quite an expense when you calculate how often you use them and how much you would spend on separate accessories, it becomes obvious – 3-in-1 Travel Systems are the cheapest solution.
Space-saving
Instead the necessity of storing three products we have only one. So, there is no need to take up additional space in your house. The multifunctional 3-in-1 Travel Systems are a very reasonable solution for the owners of small apartments.
The comfort of use
The main advantage of multifunctional pushchairs is that all the elements included in the set are compatible. Changing functions takes several minutes. If you choose a 3-in-1 Travel System, you can also be sure that the car seat will fit into the frame with adapters.
Safety
Multifunctional pushchairs have a robust construction which provide stability when in motion. At the same time, they are very comfortable to use, as most models available on the market are perfect for both shopping in the supermarket, using public transport or traveling.
One-time purchase
Parents who have chosen a multifunctional pushchair, do not have to worry about another expense for at least two years.