When looking for a pram, we tend to focus on its design and colour. No surprise there, these can easily steal the hearts of expectant parents. However, it is worth taking a closer look at functionalities that will make life easier for new mum and dad and will also provide comfort for their newborn.
Imagine… you have just purchased a pram and you absolutely love the way it looks. It has everything you wished for.. beautiful colour and refined details. However, you know exactly that for this pram you will have to make a few compromises. One of them includes having to carry it everyday and as this pram is not one of the lightest or most compact ones on the market, it is on a good path to become your enemy instead of your daily support.
Today pram manufacturers offer a number of interesting solutions, which you need to explore. Of course, you will need some of them more than others – we are all different and have different needs. The fact is, it is necessary to do your research and expand your knowledge to avoid making a mistake.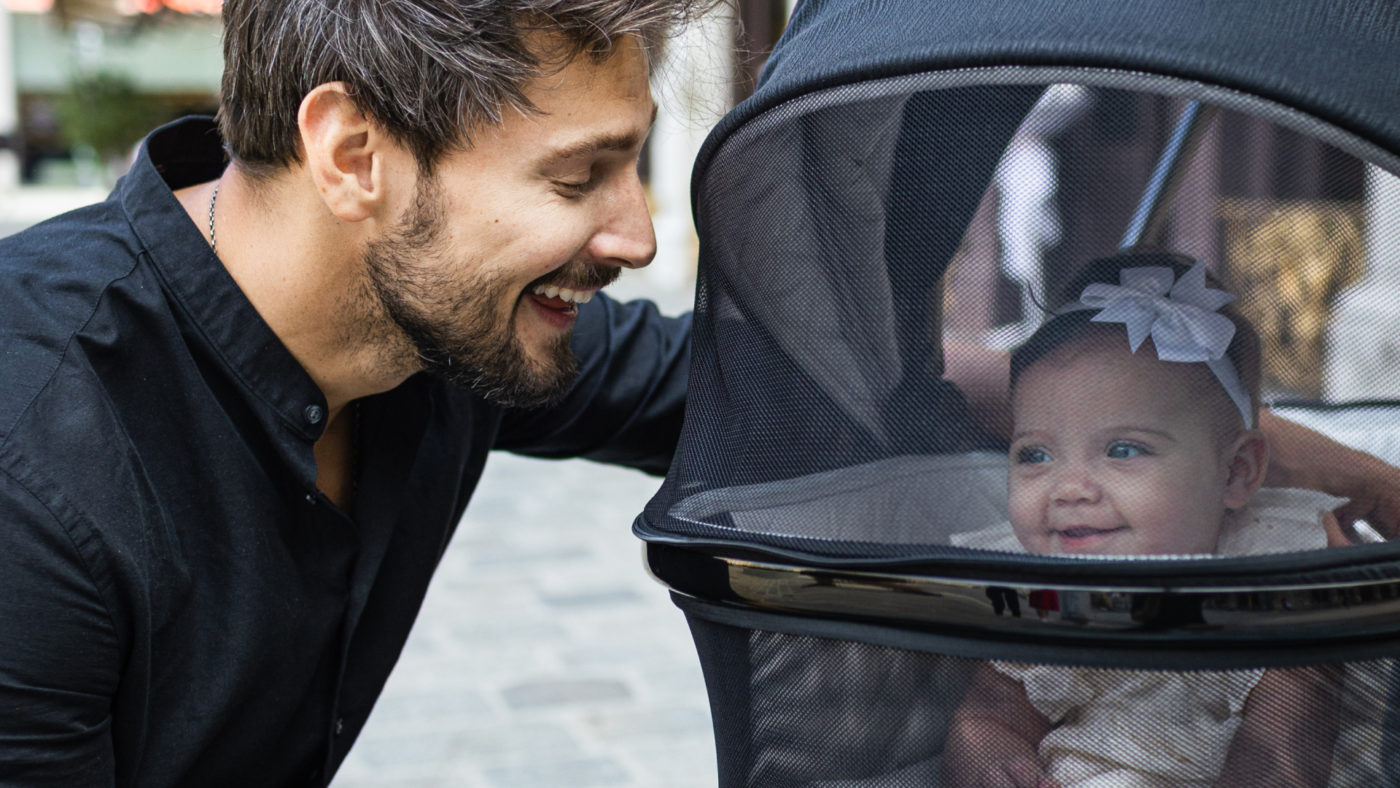 Built-in panoramic ventilation
Carrycot is a place in which your baby, especially at the beginning, will spend most of their time. This does not only just include walks; rocking the carrycot around the house often seems to be one of the easiest ways to get your baby to sleep while at home.
However, during warm, summer days, there are solutions which will make staying in the carrycot more pleasant for your little one. One of them is a built-in panoramic ventilation panel. This ensures a draft as well as correct air circulation inside the carrycot, meaning your baby will sleep peacefully.
When asking about panoramic ventilation, it is worth taking a look at the way it works. Most of the time it is just a matter of removing the fabric which covers it either by lifting it up or unzipping it. If you get a chance check out both to see which one suits you best.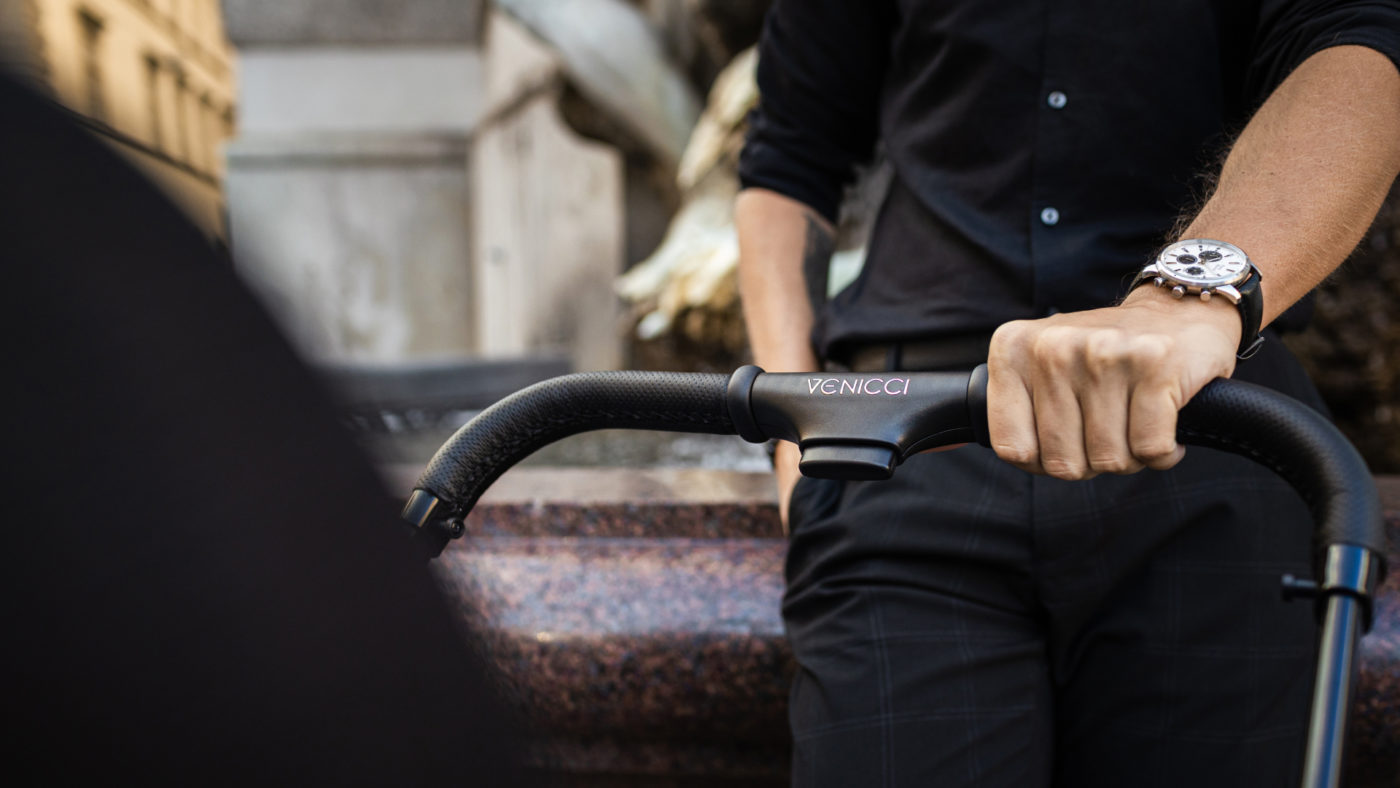 One- hand fold
If the world of prams is completely new to you, this solution may fascinate you. With a few simple hand movements, you will be able to fold the chassis to a small, compact size. All you have to do is grab the handle and press the dedicated button.
In exactly the same way, you will be able to fold the chassis with a seat unit attached. Whole process takes a couple of seconds, and once completed you can place the pushchair in the boot of the car or move to a different convenient place.
Telescopic handle
We are all of different heights and we all have different preferences. You may feel more comfortable if the pram handle is lower, while somebody else who is taller will need the handle to be positioned higher up. Being able to change the position of the handle is a very important feature.
If you are particularly tall you may find carrycot height adapters useful too. To install them, you will need to attach them to the chassis (if installed correctly you will hear a 'click' noise') and then attach the carrycot. Venicci carrycot adapters increase the height of the carrycot on the chassis by 10cm.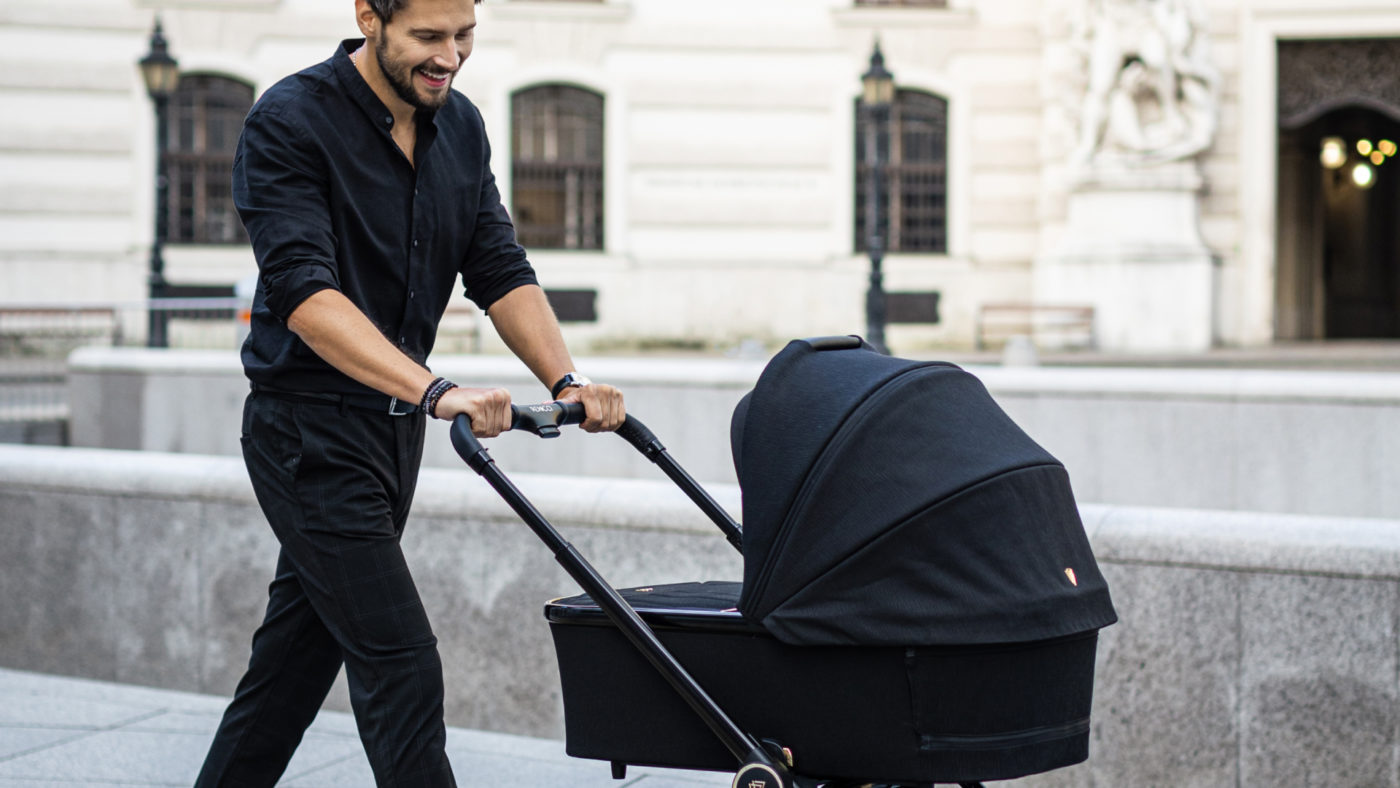 Comfortable and easy to clean carrycot
At the beginning your baby will spend a lot of their time inside the carrycot – we already know that. Before you choose your pram, take a good look around, as some carrycots are also suitable for overnight sleeping.
Mattress which comes with the carrycot is very important. It needs to provide maximum comfort at all times. Removable mattress cover may also be useful. Experienced mums will confirm that being able to take it off to wash it is super practical. Venicci Tinum Upline prams will allow you to do that. Just remove the mattress cover and wash it at 30 degrees. Sorted!
Find out if the liner inside the carrycot is also removable. This will allow you to keep the carrycot clean for your baby.
Memory buttons
When choosing your pram, find out if it comes with memory buttons. Why? Without memory buttons, you will need to use both hands to remove the carrycot from the chassis. You will need to press buttons on each side of the carrycot and then lift it up to remove it.
If your pram comes with memory buttons, you will need to click each button, one at a time and remove the part you want to detach from the chassis. You will not need both hands to do it, which will be useful especially when your baby gets older and is a lot more active.
Venicci Tinum Upline is equipped with memory buttons. In the Stone Beige colour variation of this model, memory buttons are gold which beautifully complement the rest of the pram, giving it a stylish and elegant look.
Solid, gel wheels
Imagine going for a walk with your baby, and one of your tyres bursts when hitting a stone. On top of that, you are in a rush, your little one is crying and the weather looks like it is about to change.
To avoid this kind of situation, you need to buy a pram which comes with solid, gel wheels. Not only are they puncture-free, they are also great if you want to use your pram on more demanding terrains.
These sort of wheels come with a number of other benefits, such as shock absorption. This will ensure your baby's peaceful sleep even when on uneven terrains.
If you do not want to worry about pumping up your pram wheels or checking their pressure, this type of wheel will guarantee your peace of mind.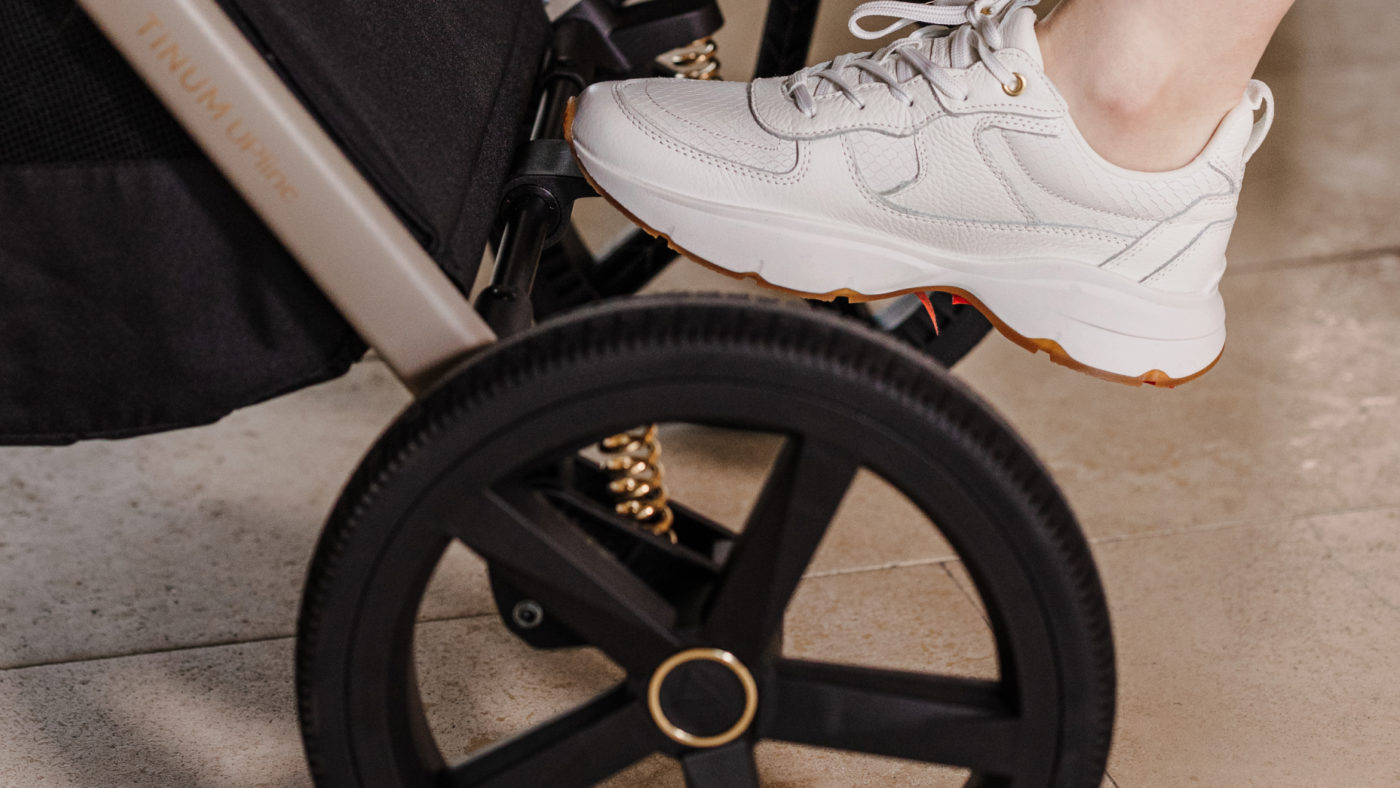 Accessories included in the bundle
Before you make your purchase, find out what accessories are included with the pram. Brands often offer a variety of different elements, which are of a high quality but also practical and match the rest of the Travel System and can last a very long time.
Rain cover and mosquito net are great examples of accessories which are commonly added as a part of the bundle. This means they fit the pram perfectly. Changing mat, footmuff and bag tend to be added as an extra too.
If you do not like mixing colours, a matching bag might be a necessity for you. Brands who include it as a part of their bundle, ensure that it is made from the same fabric as the rest of the pram, which means you will get a practical but also stylish accessory.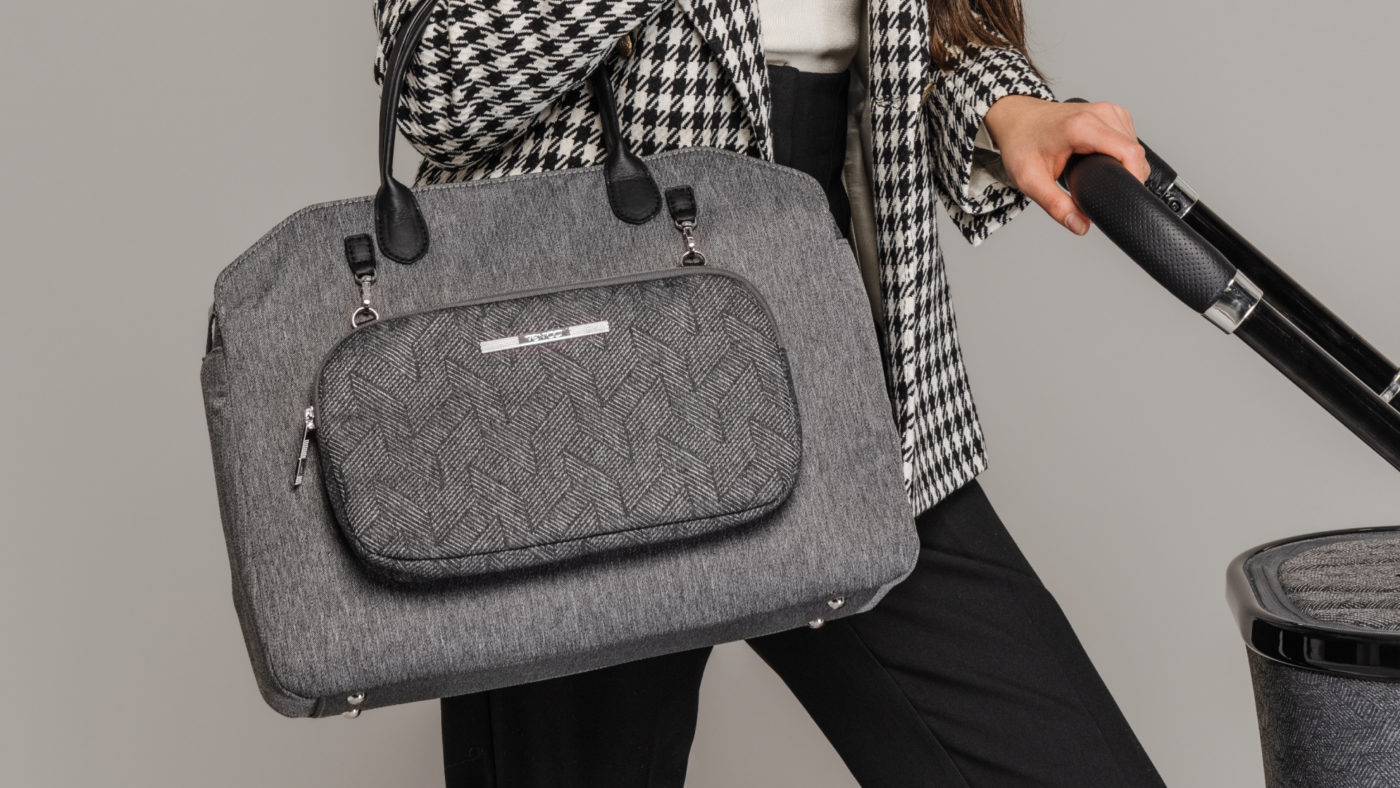 Magnetic seat unit harness buckle
How many times have you witnessed a situation where a mum tried to strap her baby inside the pushchair? Active babies often do not want to cooperate and make the job for their mums sometimes impossible…
In order to do it quickly and efficiently, it is worth getting a pram which comes with a magnetic seat unit harness buckle. This solution will save you time, stress and will provide maximum safety once fastened.
Very good shock absorption
Previously, we discussed demanding terrains and how solid wheels help you tackle them. There is also another feature, which will make your country walks more enjoyable.
Check if the pram you are interested in comes with a shock absorption system. If you live in a rural area and your pram will not be used on pavements, make sure you choose a pram which will be able to cope with uneven paths and terrains.
If you live in the city, however you want to use your pram for country walks, you should consider a pram which will allow you to do so. Planning in advance will help you make a better decision and will ensure using your pram will be a pleasure for you and your baby.
Good shock absorption ensures less sudden shakes, stability and more importantly your baby's peaceful sleep.
Carry strap attached
Folding the pram is one thing, but you need to remember that you will need to carry it daily from one place to another. Prams with a dedicated strap attached will allow you to do it comfortably. It can be used for just putting the pram away in the boot of your car or for carrying it up and down the stairs. No matter what it is, this solution will make your life a lot easier.
Find out if the strap can be adjusted so that it meets your needs. Practice carrying the chassis on the strap. You will be able to see if you can do it easily and efficiently.
In summary…
Choosing a pram may look easy, however if we do not prepare ourselves or do not ask for advice, we could make a choice that we will regret for a long time. We hope you find this post useful and that it will help you explore what exactly it is that you need.
Good luck choosing your pram!